Feature Character of The Month!
Edit
October's Character of the Month is...
Milo
! Why? Because Milo's awesome! :D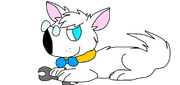 Affiliates
Edit
These are some of the wikis and websites affiliated with us! Go check them out!
SuperHuskey! Wiki - Started at 6AM, October 31st!
Di'angelopedia - Coming Soon!
Di'angelo's Twitter Page - Coming Soon!
Di'angelo's tumblr Page - Coming Soon!
Latest activity
Edit
TBA.
Last Poll Results
Edit
YES!!! I can't freakin' wait!! It's gonna be EPIC!!! is the top response to Di'angelo premiering next year. (However, Di's not premiering for a LONG while...)
Ad blocker interference detected!
Wikia is a free-to-use site that makes money from advertising. We have a modified experience for viewers using ad blockers

Wikia is not accessible if you've made further modifications. Remove the custom ad blocker rule(s) and the page will load as expected.